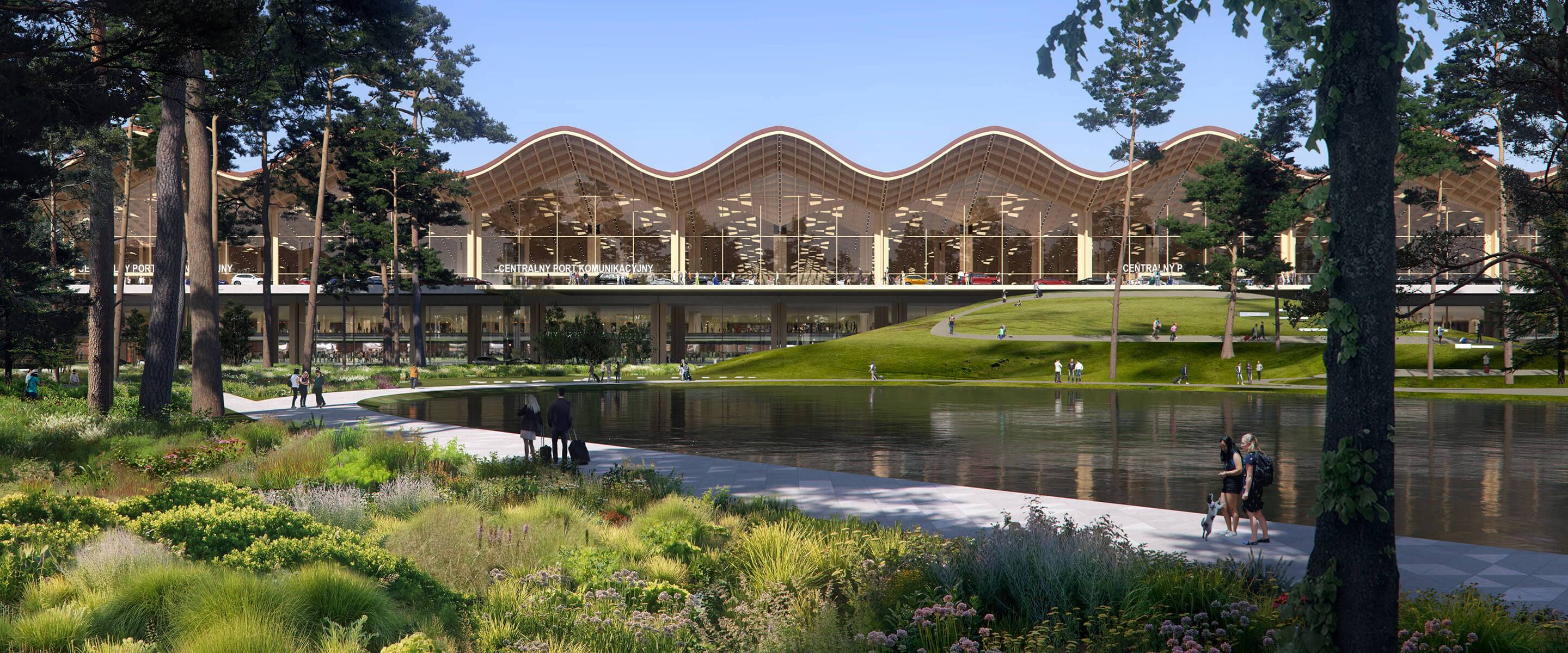 Solidarity Transport Hub Poland
Designed by Schmidt Hammer Lassen
Our competition proposal for Solidarity Transport Hub Poland envisions a sustainable future for aviation that connects passengers to nature and a sense of place. Taking a human-centered approach, we put transportation forward as an act of imagination, a journey through space and time. The design aims to make that journey as effortless and intuitive as wind moving through the trees, or the flow of water from root to trunk to branch and sky. Through materiality, resiliency, and clarity of planning and wayfinding, a seamless passenger experience is created.
The design reorients an existing master plan and organizes all arrivals and departures beneath a single, undulating roof held aloft by modular mass-timber structural bays. The experience is like walking through a forest. Skylights and glass curtain walls suffuse the interior with daylight and offer views to the Polish countryside. The terminal is fronted by a landscaped park, and throughout the interior, accessible planted courtyards give travelers the opportunity to step out into nature, decompress, and catch a breath of fresh air.
At the heart of the terminal, just beyond security and landside access, is a marketplace inspired by Warsaw's central square. All concourses meet at this hub, where passengers can circulate freely without the requirement of following rigid, predetermined paths, creating an air of spontaneity and excitement. Commercial offerings are clustered around four themed courtyards that invite exploration and engagement.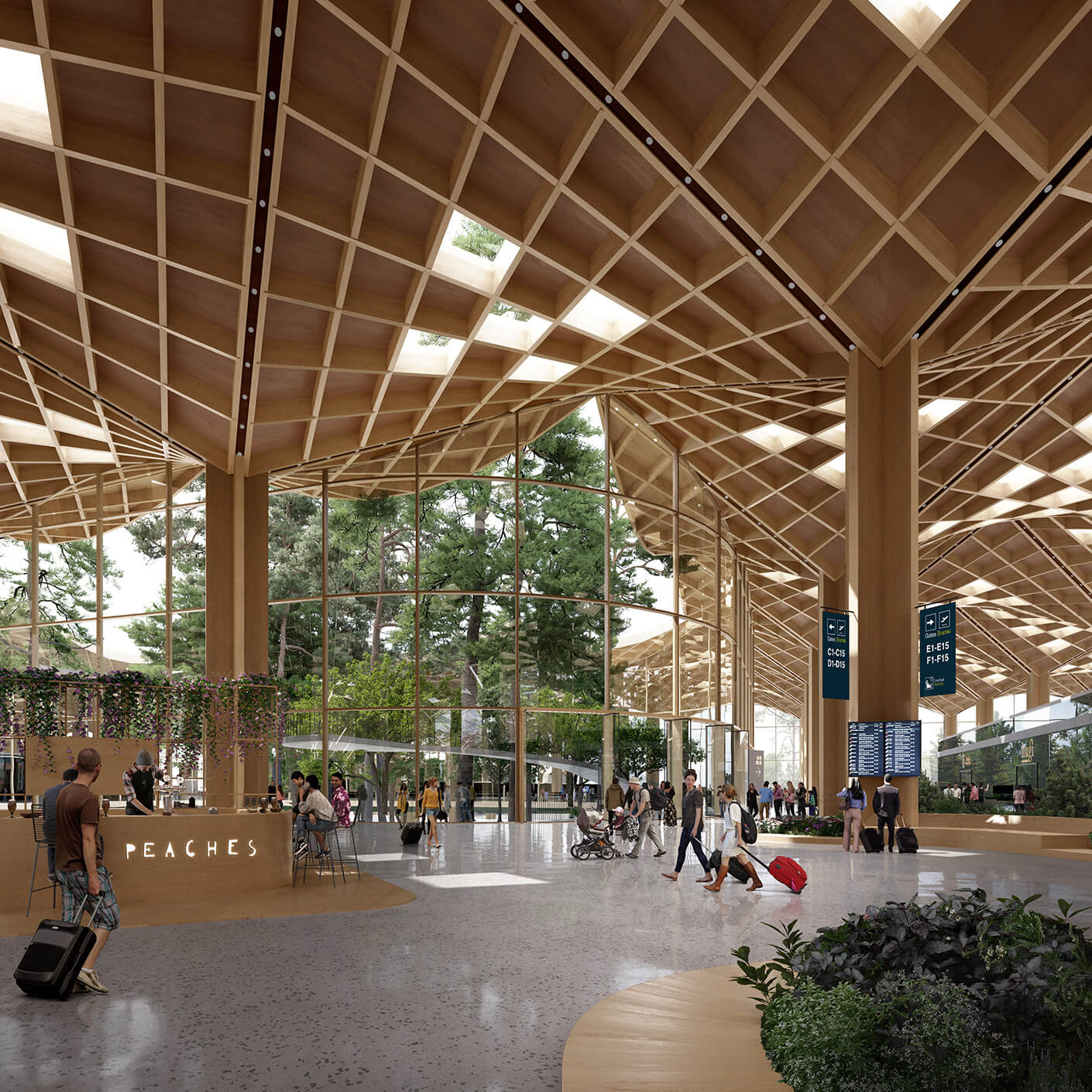 The concourses themselves are planned rationally to simplify wayfinding and decision making, helping passengers to easily find their gates and get on their way. The wood columns, skylit ceiling, and planted gardens establish continuity with the central terminal and the rest of the hub.
The seamless passenger experience is supported by a hardworking "second city" of security infrastructure and operations. Silent and invisible, these systems unobtrusively support travel procedures, allowing passengers to remain at ease as they move through the hub and on to their destinations.
The structure is modular and made of sustainable, locally sourced materials—including terra cotta roof tiles characteristic of Warsaw's historic buildings. Not only do these design choices imbue the airport with a unique sense of place, they also reduce the cost of construction, operation, and maintenance. The modular structural system can be easily replicated, like a branch growing off a tree, allowing for phased future expansion.
The net-zero design combines traditional construction materials and modern carbon reduction strategies to promote health, comfort, and long-term sustainability. The strategy leverages local climactic conditions and resources with on-site energy generation to achieve the airport's performance goals. Natural ventilation combined with efficient mechanical systems and shading strategies ensure passenger comfort. Solar panels generate electricity and heat water on-site, while ground-source heat pumps minimize energy consumption. The roof collects rainwater and runs it through a grey water system to irrigate the landscaping and reduce stormwater runoff.
"If, in the last century, jet propulsion, steel and concrete, and superhuman scale defined the places that transported us into the future, we, the inhabitants of that future reality, must now reorient our imagination to renewable materials, a human scale, and a sustainable step-by-step engine of change," says design director Kasper Heidberg Frandsen. "Our proposal for Solidarity Transport Hub Poland lays out a nature-forward, human-scaled vision of the future of transport."