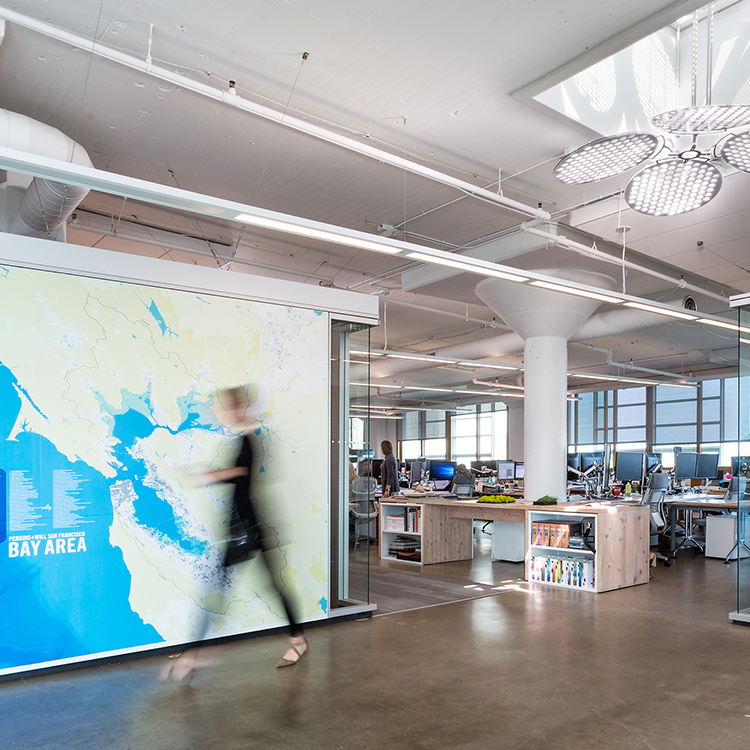 Welcome to our San Francisco studio
Tucked beneath the Bay Bridge overlooking the water, our studio has certainly carved out its place in the City by the Bay. Inside our LEED Platinum workplace, we spend our days designing a better future for the city around us. Research and purpose are at the forefront of everything we do: we're committed to innovation for the greater good of our community. And, we're proud to live up to a California stereotype or two: sustainability is non-negotiable, and keeping our cool is key.
"You won't see us wearing business suits and ties around here. People express their passion for design in everything they do—including what they wear. It's one of the many things I love about this place."
—Greg Johnson, Managing Director
Fun Fact
Our tables and desks are made of timber that was reclaimed from the nearby Transbay Terminal.
News
Almost a decade ago, Perkins and Will's San Francisco studio led the team tasked with envisioning a Better Market Street.
Today, the downtown section of San Francisco's artery that connects its hills to its bay, prioritizes pedestrians, cyclists and public transportation by closing access to private vehicles.
With a section of Market Street becoming car-free, we reflect on the work our studio did to get to this point. Read more about the work we did and our vision for Market Street on the blog: