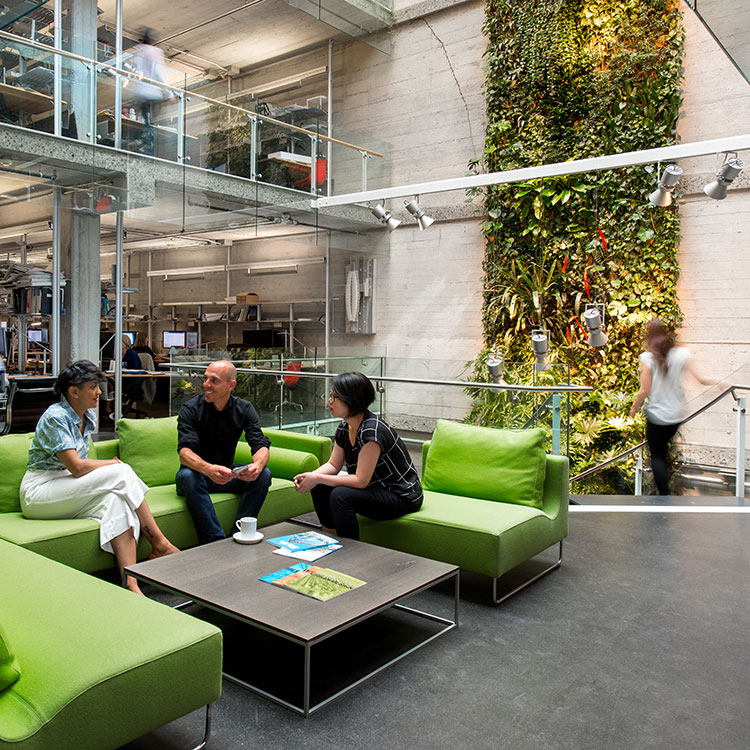 Welcome to our Vancouver studio
Here, a culture of collaboration fosters our creativity: we are one team with a common set of goals and values. The ideals of beauty, simplicity, functionality, and sustainability—symbolized by the canoe that hangs in our atrium—are central to our work. With these as our foundation, combined with a desire to always do better, we forge new frontiers through research and innovation. Together, we create change.
"Giving people the tools and space to do great work has always been fundamental to building the ethos of collaboration and excellence in our studio."
—Susan Gushe, Managing Director
Year after year, our studio is proud to be recognized as one of Canada's Greenest Employers and as one of BC's Top Employers―demonstrating our commitment to environmental leadership, well-being, and a socially engaged workplace culture. Since 2022, we have also been recognized as one of Canada's Top Employers for Young People. Read why we were selected.
In 2021 we were also certified as a Living Wage Employer.
"I love our culture of collaboration. We have a shared sense of purpose—we engage in finding solutions together with a positive attitude and have taken time to get to know each other on a more personal level. To me, this makes working in the design world fun and fulfilling."
– Manuela Londono, Sustainable Building Advisor
Videos
Check out these videos for a deeper dive into our process: