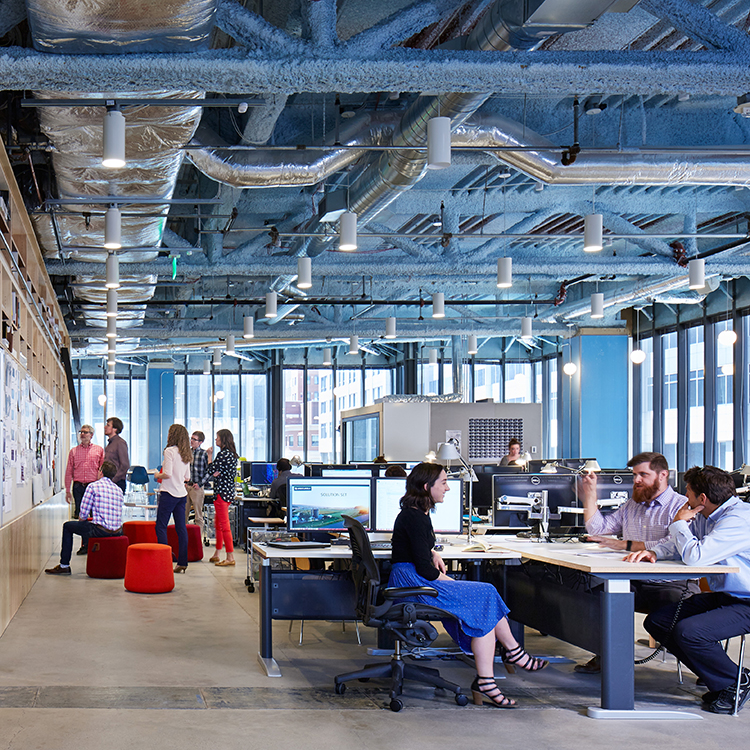 Welcome to our Minneapolis studio
We are the Bold North. We call the tallest building on the Minneapolis skyline home. Our self-organizing studio is our playground for innovation – designed as a living laboratory and playful work in progress, it is a constantly evolving maker-space where we test new ideas for our clients, and fluidly share work across our diverse disciplines and practices.
Our entrepreneurial studio is fueled by curiosity, possibility, and making the world a better place. We geek out on research, data, and metrics to help get us there. We are no stranger to asking questions, taking risks, and experimentation; we have collectively incubated ideas that have transformed into industry-changing standards, policies, master plans, environments, and buildings that are creating a more resilient, equitable, and sustainable future.
"We designed our studio to embody our core values of Sustainability and Equity, and actively live them out each day through our work and culture as we strive to design for the greater good."
—Anne Smith, Corporate Interiors Practice Leader
Fun Fact
Our studio is self-organizing with 100% unassigned seating to support individual choice, teamwork, and collaboration
"Our studio is a diverse and dynamic place, where we can share our ideas with peers and mentors. This synergy is contagious and exciting and leads to truly diverse and sustainable possibilities."
—David Lyon, Project Architect
Fun Fact
Our studio had the highest Leesman+ score in North America in 2018
Our project rooms are named to celebrate three brilliant interdisciplinary designers who directly or indirectly shaped our IDS Center and its place on Nicollet Mall:
Fun Fact
We were the first Fitwel certified commercial interior space in Minnesota, with 2 of 3 stars
"We're fortunate to work within a space that's defined by re-used and bio-based materials. The FSC-certified plywood millwork, wrappers, and frames are wonderful reminders to challenge the ubiquity of gypsum board in interior environments. Each plywood panel is unique – a beautiful registration of tree growth over the seasons."
—Jill Vowels, Senior Project Architect