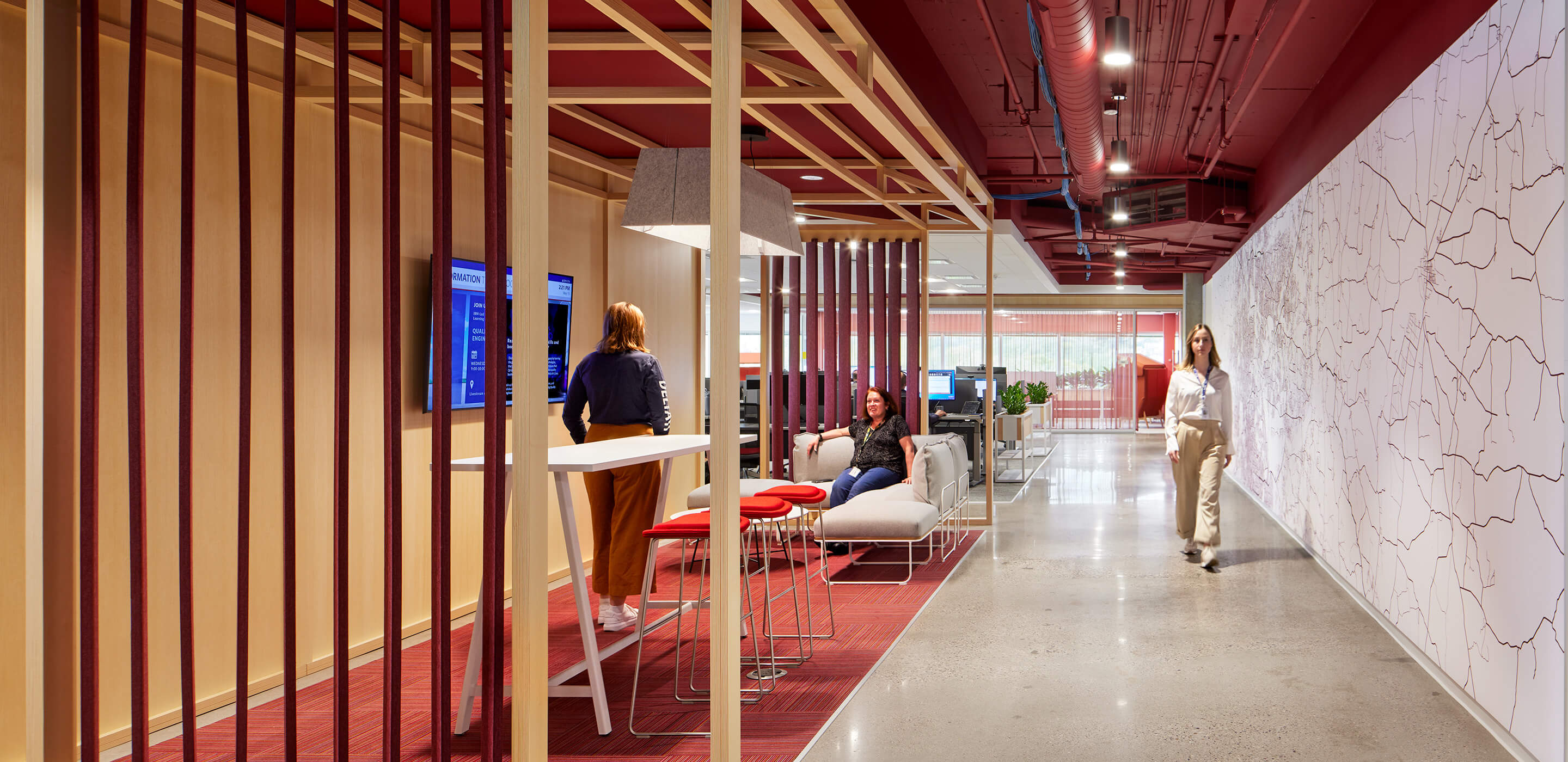 Delta Tech Hub
Minneapolis, Minnesota
Delta's Minneapolis Tech Hub is one of the three global technology centers where the airline develops and tests the hardware and software that enables its operations. Both a data center and an office for more than 600 people, it was designed to be a commute-worthy destination, where employees want to come and spend their time, with the aim of attracting and retaining the brightest talent and empowering them to do their best work.
As many of the employees are part of hybrid teams spread across multiple locations, the interior architecture encourages local workers to make personal connections and build community. The location, in an existing building not far from the airport, was selected for the ease of the commute; amenities, including a fitness center and private terrace for access to the outdoors; and proximity to a park, walking trails, and multiple restaurants, where people can enjoy a lively existence outside of the office.
Spread across three levels, the interior provides a variety of space types that ensure employees of all abilities and needs feel welcome and supported. These include dedicated open and enclosed work areas as well as a quiet library, a collaboration café on each level, a game lounge, and a stadium event space. Each of these are located along the building's windows to maximize daylight and views to the surrounding landscape. Other spaces, including focus, multi-faith room, and wellness rooms, are tucked deeper within the interior to give users control over lighting levels and varying degrees of privacy.
Each floor is identified with one of Delta Airlines' three core brand colors to add variety and assist with wayfinding and orientation within the workplace. These colors can be seen on the exposed ceilings, accent walls, and custom branded graphics. On each floor is a map of one of the cities where the airline has a tech hub—Minneapolis; Atlanta; and Bangalore, India—connecting this location to its global counterparts. A monumental stair connects the three levels, encouraging movement, and providing the opportunity to have chance encounters with coworkers along the way.
The materials and fixtures used throughout the interior were selected for their low emitting qualities and ability to enhance the indoor environment. Acoustic strategies keep noise to a healthy decibel level, while biophilic elements, such as plants and a generous use of wood millwork, reduces stress, increases cognitive performance, improves healing, and positively influences the moods and emotions of all who work there.
"When we first embarked on this project, we were inspired by what the tech hub does for Delta," says Perkins&Will's lead designer, Anne Smith. "To us it was this invisible network. We weren't aware it was supporting the day-to-day operations of this global organization and making our flying experience as seamless as possible. We wanted the design to make this network visible by exposing structural elements and placing collaboration tools and community zones at the heart of the experience. Our design invokes a feeling of connectedness within the office and the organization, giving space for employees to build social cohesion and celebrate the impact they have in this world."