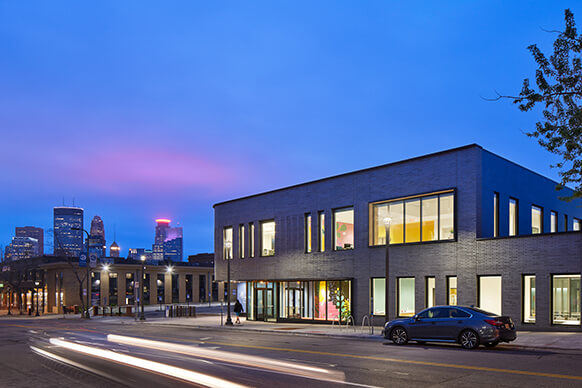 Family Tree Clinic
Minneapolis, Minnesota
A new clinic providing respite, hope, and specialized care for the LGBTQ+ community in the Twin Cities and beyond.
For more than 50 years, Family Tree Clinic has been providing reproductive and sexual health services to underserved populations in Minneapolis and St. Paul. But clients–55% BIPOC, 60% LGTBQ, and 70% below the poverty line–faced long waiting lists and barriers to cutting edge medical care. So, in 2017, Family Tree sought to plan their next phase of growth and community service. They wanted a facility that makes their often marginalized patients feel like they matter, they are seen, and they will be cared for to the highest standards. This building conveys belonging, excellence, and joy.
For Family Tree Clinic, access is critical. Just over a mile from downtown Minneapolis, connected by three mass transit lines, bike share, and two major interstates, Family Tree is both a neighborhood resources and a destination clinic. Located on a busy retail corridor, the building stands as a welcoming, safe, and connected respite for both patients and the larger LGBTQ+ community. A simple brick volume matches the scale and material pattern of the neighborhood. Care was taken to use materials that represented permanence in the community. Family Tree Clinic wanted to make it clear they will be part of this neighborhood for the long haul.
The building was designed with two main principles in mind: creating an inviting, welcoming oasis for patients, staff, and community members and building a safe, private, trauma-informed place of respite. To achieve these often-opposing ideas, the clinic proper is situated on the second floor towards the back of the building to provide privacy. The clinic waiting room is located on the second floor providing views to the thoroughfare below. The first floor contains community and staff spaces surrounded by glass, welcoming visitors inside. An intimate, protected courtyard daylights interior public spaces, creating connections to the outdoors and providing outdoor respite for staff and community.
The community impact has been immediate. The new facility has enabled Family Tree to expand its pediatric care at a time of rapidly growing demand and limited availability in the region, serving an additional 10,000 patients per year. Soon after opening, a parent who had been finding delays of up to two years for her child at local hospitals was able to get care within three weeks.
A welcoming clinic that reminds its patients and community that they are seen, they are heard, and they matter.
A clinic designed with each of its patients in mind.
Framed views of nature and the city connect the community and staff to the natural world. There are opportunities to gather together or sit in solitude. Circulation through the building is accessible to people of all abilities. Signage for multiple languages and visual and auditory privacy is provided throughout the building. Furniture was chosen for its comfort and accommodation of the wide variety of sizes and shapes of the people who use it.
Trauma-informed design.
Many users of the building have experienced some form of medical trauma. A skylight illuminates a bright yellow core, ensuring occupants always know where they are in the building and how to get out. Expansive views outdoors and intentionally framed corridors provide patients and staff with a sense of calm and safety. Frosted narrow lites in exam rooms maintain privacy while offering natural light, prioritizing wellness for everyone who uses the space.
Connecting to nature and community.
Nature can promote healing. An urban courtyard connects patients and staff and provides respite from the city. The courtyard is planted with native butterfly and pollinator friendly plants and has provided a much-used urban habitat for birds since it opened.
The simple, economically designed building's exterior is wrapped in murals that further express the power of healing by community BIPOC and LGBTQ+ artists.
"Perkins&Will took the time to remind us we deserve nice things. Plus they centered our users in the process, and then supported us to go big with a vision for a new home to deliver our mission!"
― ALISSA LIGHT, FORMER EXECUTIVE DIRECTOR, FAMILY TREE CLINIC