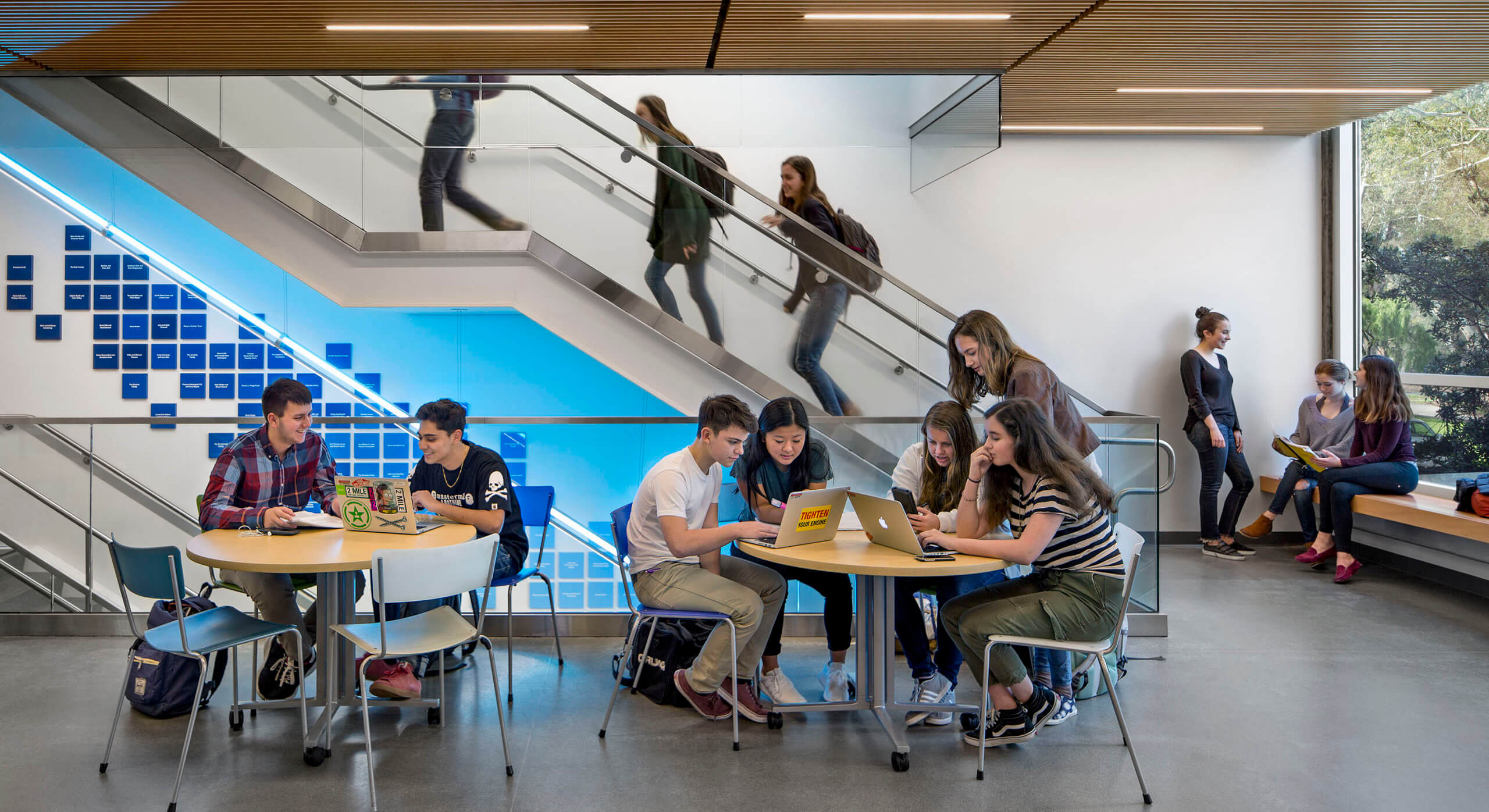 The Urban School
San Francisco, California
After decades of use, the existing campus of The Urban School had devolved into a disconnected maze of small rooms. In looking to redevelop and expand its campus, the school sought to galvanize its commitment to inclusiveness, collaboration, and its active membership within San Francisco's community.
Our design team helped the Urban School negotiate the use of neighboring church land for development, under the terms of which allowed the church use of the incorporated parking facilities. We designed the remainder of the Academic and Wellness Center to provide a diversity of spaces that encourage student interaction – seven flexible classrooms, a kitchen and two-level student commons, a full-size gymnasium event center, as well as casual meeting spaces and areas for reflection. In line with its commitment to its community and Haight Ashbury neighborhood, we visually connected the school with its surroundings by wrapping the center with a glass façade that balances natural light and views to create calm, reflective spaces to learn.
Students enjoy the activated rooftop area with its outdoor turf field and additional student commons. This rooftop space offers spectacular panoramic views of the Panhandle, Sutro Tower, and the city of San Francisco beyond, further reflecting the school's place and mission within the community.
What Makes it Cool
The Urban School is a mixed-use building with a full-size cross court gymnasium, multiple classrooms, a 2-level student commons, a café and a courtyard.
Collaborating to Maximize Resources
Most schools in San Francisco face challenges finding enough space. This was especially true for the Urban School, located in the middle of the city's Haight Ashbury neighborhood. Luckily for the school, Urban was also located near St. Agnes Church which happened to own a vacant plot near the Urban School's original campus. The church land was underutilized, so our design team helped to negotiate the use of the church's land for the Urban School's new building. In return, St. Agnes Church would use the below-level parking lot for its Sunday services.