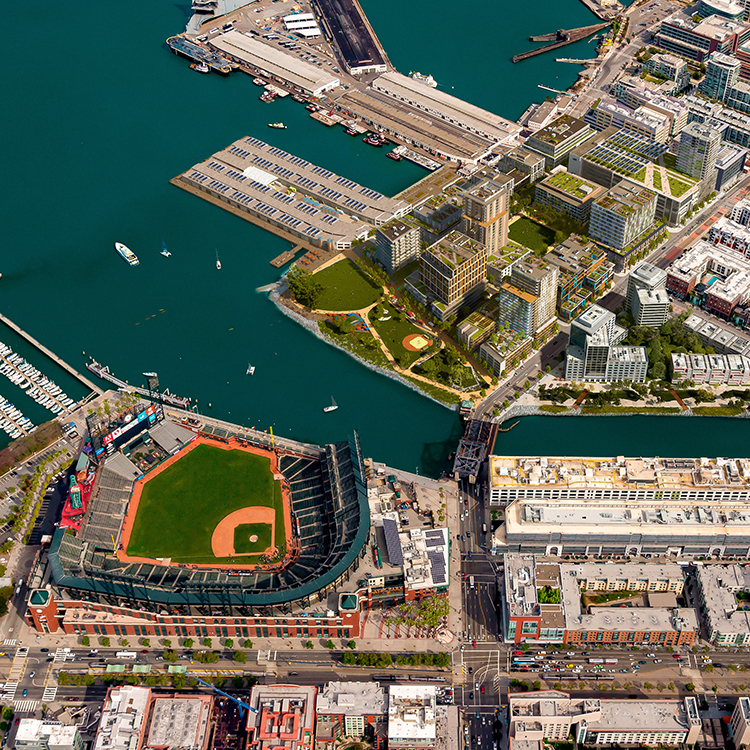 Mission Rock
San Francisco, California
A Future-Ready Neighborhood for San Francisco
We're serving as planners, urban designers and architects for the San Francisco Giants as they move to create an entirely new, dynamic, public destination neighborhood directly at the intersection of Mission Creek and San Francisco Bay.
Mission Rock will be a new mixed-used neighborhood consisting of 8 acres of new public open space, approximately 1,500 new rental homes with 40% affordable to low and middle income families, and small retail shops and cafes. The project is estimated to create 13,500 construction jobs and 7,000 permanent jobs, and generate over $25 million annually in new revenue for City services, and that's just the beginning.
The project will also include sea level rise resiliency and adaptation features, ensure the historic rehabilitation of Pier 48, and improve public waterfront access along the Blue Greenway Trail. The San Francisco Giants and Tishman Speyer are the lead developers for the project and are working closely with the Port of San Francisco and the City. It is anticipated that construction will be completed and full occupancy will take place by 2025.
"Mission Rock puts affordable housing, parks and open space, and thousands of jobs in the right place for San Francisco. It's an exciting project that adds so much to San Francisco without displacing anyone."
London Breed, Mayor of San Francisco
Resiliency at the Rock
The whole of the site is a performative landscape raising all of the occupied space by 66 inches to meet the 2100 forecasts. The trick is to make the development something that is beautiful and useful before and after the anticipated change in sea level. However, the evolution in function needs to occur in a way that doesn't deter people from coming to the waterfront and enjoying what it has to offer. For example, elevated loading docks and sidewalks have been incorporated in the development's design for future use as pedestrian walkways as water levels rise.
What Makes it Cool
Mission Rock will create an entirely new dynamic, public destination neighborhood directly at the intersection of Mission Creek and San Francisco Bay.
Sustainability
Mission Rock will have 79% less CO2 emissions than equivalent developments in the United States. It will also have an on-site plant to recycle water. This plant will allow 100% of the project's non-potable water demands, including watering eight acres of new public space, to used recycled water.