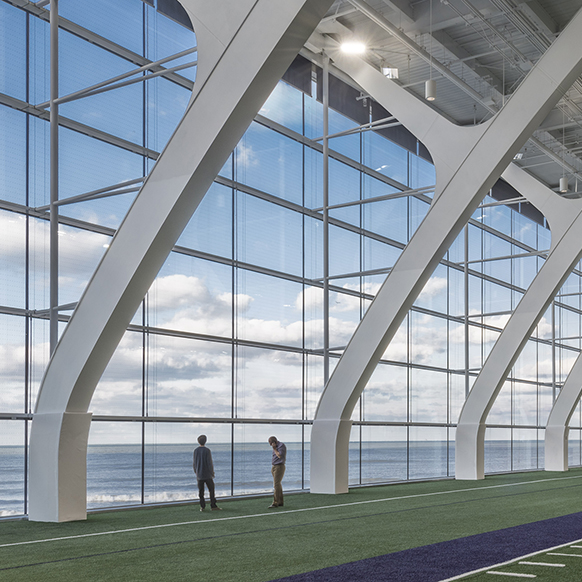 Northwestern University Ryan Fieldhouse and Walter Athletics Center
Evanston, Illinois
Athletic Complex a Game-changer for Students on Lakefront Campus
In response to our client's goal to recruit and inspire world-class student athletes, we designed one of the most versatile practice, competition, and recreation venues in the nation.
The Ryan Fieldhouse and Walter Athletics Center is a transformational athletic expansion on Northwestern University's Evanston campus. To optimize the student-athlete experience, we designed a sleek, sophisticated destination–one that takes full advantage of the vista over Lake Michigan and the panorama of the Chicago skyline. Abundant ceiling-to-floor windows give way to jaw-dropping views of the natural and urban landscape, ushering in natural light at nearly every turn. And, despite being located on a constrained site, the monumental facility seamlessly integrates with the surrounding campus, never calling too much attention to itself.
Today, student-athletes at Northwestern University get to train and perform at one the world's finest athletic institutions—but also, in an iconic work of modern architecture.
What Makes It Cool
A sweeping horizontal glass façade and efficient planning provide unobstructed Lake Michigan views.
Integrated Planning
We engaged many stakeholders, including all of the university's sports teams, in an inclusive planning process. This ensured that the needs of various user groups—student-athletes, visitors, donors, and more—were addressed in the facility's design.
Branding is a key element throughout, telling the storied history of Northwestern athletics.
Brand elements evoke engagement based on the function of space – a sense of intensity and vigor in training spaces, a sense of maturity and accountability in academic support areas. Prominently featured in the public entry space, a 3-story LED screen captures the spirit of sport, and dynamically represents the University's 19 athletics programs."
Associate Architect/Sports Consultant:
HOK