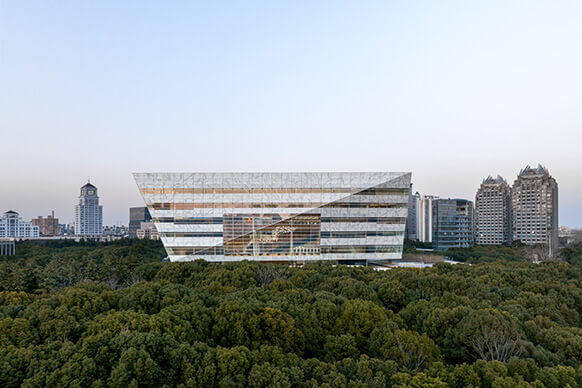 Shanghai Library East
Designed by Schmidt Hammer Lassen
China's Largest New Library
Shanghai Library East, a new civic landmark and cultural destination in the world's third most populous city, has opened.
Inspired by Taihu stones, or ancient Chinese scholars' rocks, Shanghai Library East emphasizes creativity, collaboration, and public art. More than 80% of the building's space is dedicated to community activity. The new 115,000 m² library is located in Pudong District—the area known for its iconic skyline and sits immediately next to Century Park—the largest park in the city spread over 140 hectares.
The project is conceived as a singular monolithic object floating above the tree canopy within the park. The main library volume floats above two pavilions that will house a 1200-seat performance venue, exhibition, and events space, and a dedicated children's library, which will open up towards a series of landscaped courtyards and gardens.
The library volume is carved and twisted to reflect the surrounding park and sky, and continuously clad in a facade of clear, insulated and fritted glass. The glass panels are arranged in horizontal bands that are angled to minimize solar glare in addition to horizontal louvres—allowing unobstructed panoramic views to the park and city beyond.
Shanghai East is one of the largest new libraries in the world. Its primary function as a center of art, culture, and technology-driven learning reflects the modern library's rapidly changing raison d'être. At the same time, its allusion to classical Chinese scholarship—the building's form conjures the scholar's rock of the ancient literati—anchors it in tradition. "This important cultural centre for the citizens of Shanghai embraces the idea of 'collection to connection'—a space to bring people together. It's the city's gift to them," says Chris Hardie, design director for SHL's Shanghai studio.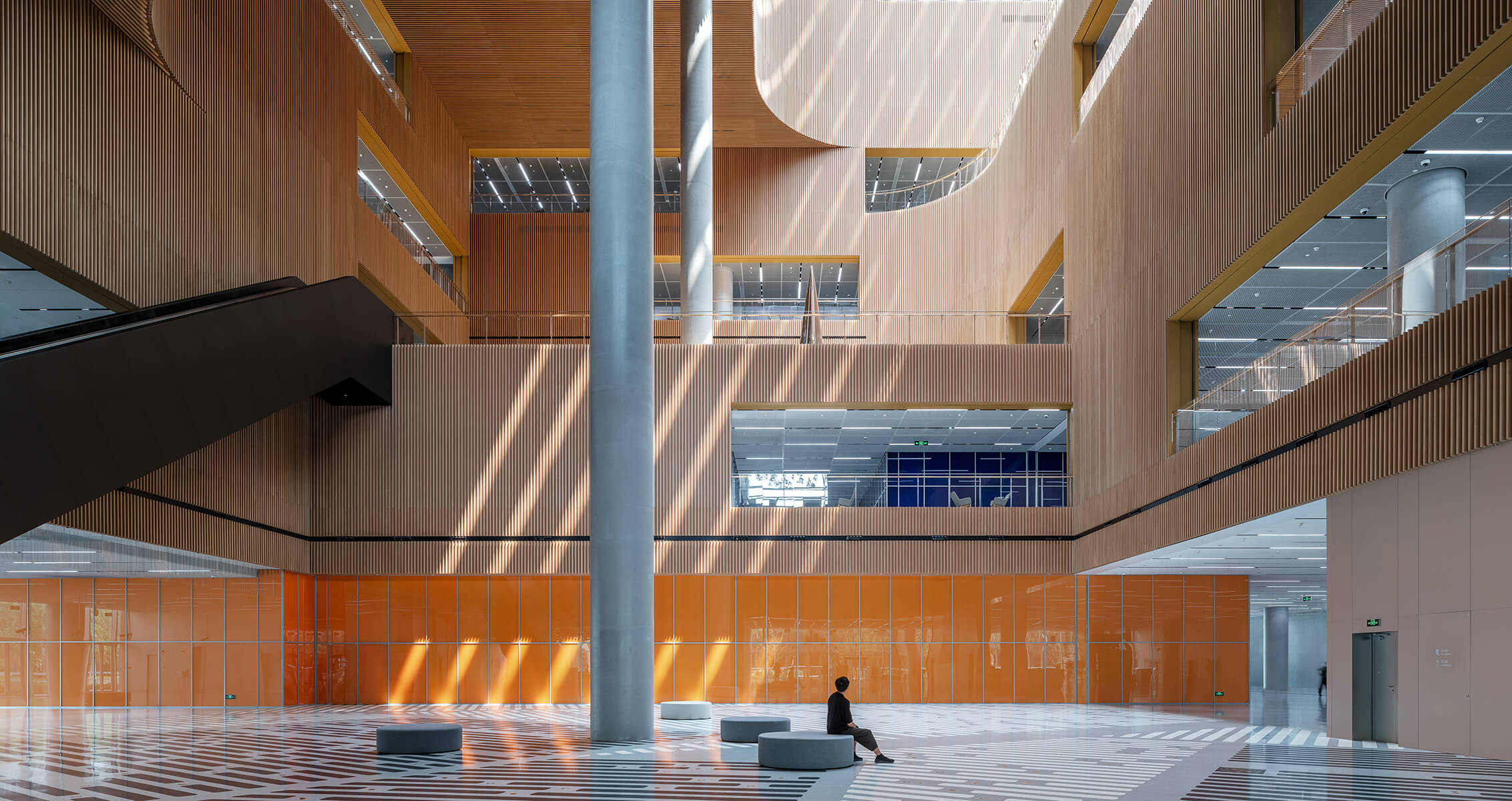 On the main level, a grand central atrium welcomes guests into a vast yet warm and inviting atmosphere of bamboo, oak, and terrazzo. Overhead, the floors stack and interlock—an architectural strategy to visually connect each of the library's seven levels. The lower floor serves as an agora, or central plaza, hosting various events, exhibitions, a bookstore, and a café.
Local artists were integral to the design process. Ten artists from China and abroad—including Xu Bing, Gu Wenda, Shen Fan, Zheng Chongbin, Emily Floyd, Ni Youyu, Mia Liu, Plumer&Smith and Yang Zhenzhong—created site-specific installations. Curated by the international arts organization UAP (Ur-ban Art Projects), the public artwork program is rooted in the theme "Mediums: The Development of Writing." The works are intended to inspire readers, encourage communication, and celebrate knowledge.