Case Western Reserve University Tinkham Veale University Center
Cleveland, Ohio
Breaking the Boundaries
Case Western's dual historical campuses have always been a distinct feature of the university. But with the modern world as connected as ever, the community needed their own connection–literally and figuratively–in the form of a University Center.
We designed a community-focused facility, a system of interconnected pathways that connect building to building and indoors to outdoors. This centralized public space offers formal and informal gathering areas for students, faculty, staff, and even Cleveland locals. Not only were we able to create a building connecting these campuses, but the LEED Gold certification establishes a stronger connection between the people served and the environment we are celebrating.
What it Is
A new hub for campus life The University Center connects Case Western's dual historical campuses, and is the new hub for campus life.
Fulfilling the Mission of the Institution
The 2005 Case Western Reserve University masterplan identified the need for a functional campus center. The primary goal of the University Center, designed as the new heart of campus, was to create a facility that fosters a culture of inclusion among students, faculty, staff and the community while providing needed amenities in the form of a variety of office spaces and common areas. The planning and architectural concept directly addresses this intention and promotes a collaborative environment.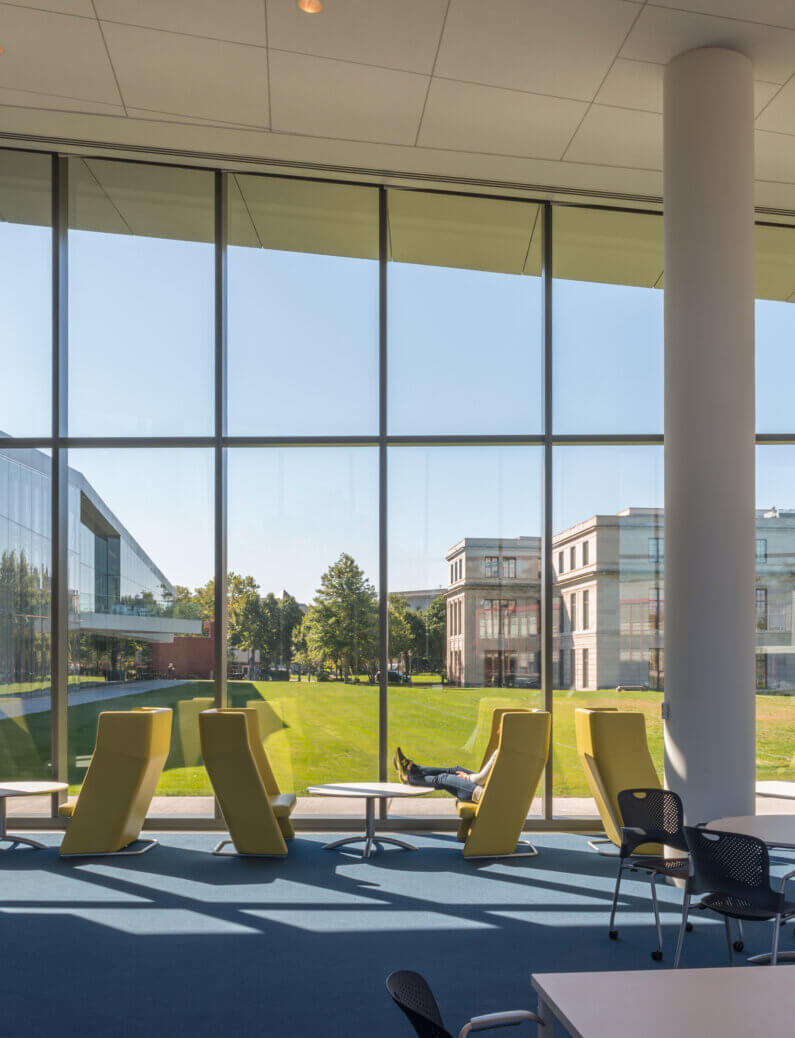 Integrated Planning
The primary goal of the project was to create a heart to the University providing a unique and iconic facility at natural cross road of student paths; to bring students, faculty and community together for informal and formal collaboration. From this larger context, the team developed a planning concept that provide entry points on each side to the building, creating an inviting, open, and transparent design (there is not "back of the building") which specifically relates to the natural student paths across campus and site-specific context given the challenging site and close proximity to existing adjacent buildings.
Sustainability
Cognizant of sustainability during design, construction and operation, the project is LEED Gold through site development, water and energy efficiency, use of sustainable materials, and indoor environmental quality. It utilizes renewable energy strategies, daylight harvesting, natural ventilation, radiant heating and cooling, and chilled beam systems.
Associate Architect:
CBLH Design