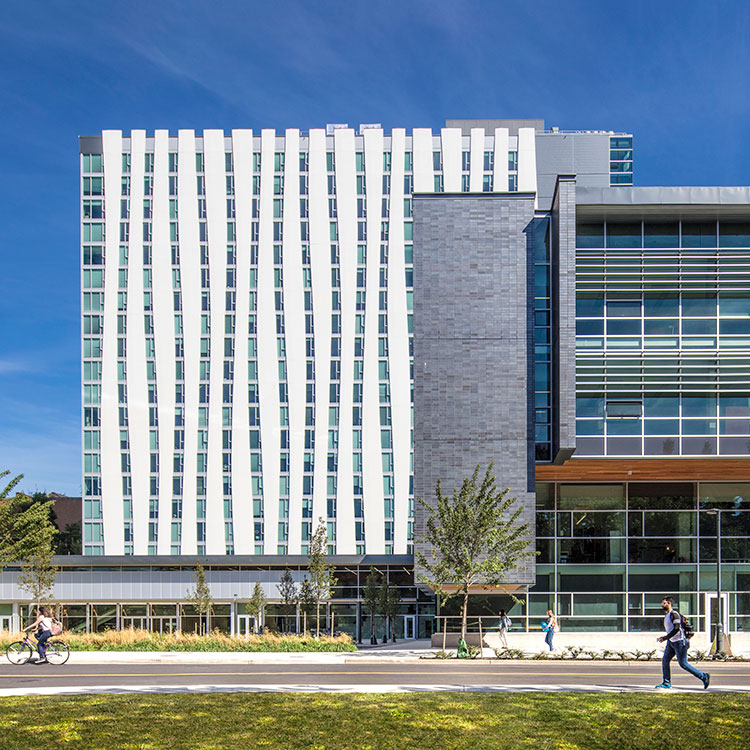 University of British Columbia Orchard Commons
Vancouver, British Columbia
Fostering Social Connection
Social sustainability was top of mind when the University of British Columbia set out to create a new first-year academic and student housing hub – a facility that would host both domestic and international students. With most of these students away from home for the first time, many of them in a new country and adjusting to a different language and culture, this new facility would need to provide a supportive and welcoming environment to ease their transition, while integrating with the campus at large.
We collaborated with students, the University, and Student Housing and Hospitality Services (SHHS), to create an outward-looking facility that invites the greater campus in, promoting diversity and social connection by bringing more activity and life to the heart of UBC. Our design cultivates interaction and chance meetings with transparent, interconnected spaces, and supports the wellbeing of occupants through views of nature, daylight, and the use of healthy materials. The result is a new hub on campus with a unique identity, one that fosters community and long-term relationships while supporting the University's social, environmental, and economic sustainability goals.
Designing for Social Sustainability
Spaces that Encourage Social Interaction
In a world where social connections are increasingly made through technology, it is imperative to provide spaces on campus that entice students to interact and help form community. Designed to be outward-looking with a sense of invitation to the greater campus, Orchard Commons encourages social interaction where students can meet others, share authentic experiences, and create a new common culture.
Generosity and Invitation
Two overarching principles were used to foster social connection–generosity and invitation. The critical elements that were used to achieve this include:
Transparency, to create a sense of invitation in the residential lounges, exit stairs, and public activity spaces on the ground floor;
Daylight, to promote well-being and a sense of place, and enhance wayfinding;
Wood, used in strategic ways to be inviting, warm, and promote well-being.
Facade Strategies
Computational Design
The unique façade of the residential towers provides a defining identity. The shapes of the precast concrete cladding were optimized using computational techniques to maximize repetition while maintaining a unique appearance. The envelope was also optimized to meet UBC's sustainable energy goals. Computational optimization resulted in a wall system that was very cost-effective and accelerated the schedule.
"Advancing UBC's social, environmental, and economic sustainability on campus, Orchard Commons provides the latest in academic mixed-use design with stunning architecture. We are excited to see a diverse community of students and faculty enjoy the new facility with its dynamic social spaces."
Andrew Parr, UBC Managing Director, Student Housing & Hospitality Services
Innovation Incubator
Promoting Activity
With one of the goals of the project being to promote physical activity and social connections, we wondered: What would it take to get more people to use the stairs, choosing physical activity over an elevator ride?
Rethinking the conventional design of exit stairwells, we placed the stairs at the perimeter of the building and incorporated large windows to bring in daylight and views to the outdoors. Indoor connections were also created through the incorporation of transparent walls between the stairwell and social areas on each floor.