Piedmont Wellness Center
Fayetteville, Georgia
An Exercise in Health
Piedmont Healthcare, known for its first-class medical care, also recognizes the importance of prevention and invests heavily in the notion of wellness. And their Fayetteville facility is a perfect example of that philosophy.
A holistic place for both physical and mental growth, education serves as its underpinning. Test kitchens promote nutrition and classrooms teach meditation. And to advance the feeling of joy? A giant slide sits next to the stadium stairs.
Nature heals too. So we incorporated AstroTurf in boot camp-style workout areas with floor-to-ceiling doors to open during the nice weather. Hiking trails run through a grove a trees just beyond the building's footprint. Walkers will find art installations along the way because art soothes the soul, too.
Sustainability
With 5,000+ movie industry workers now flocking to Fayetteville, the need for basic amenities has grown exponentially for this rural town. With this facility in place, commuters will no longer be forced to drive back-and-forth from Atlanta. And that's a carbon footprint reduction win for everyone.
In another environmental score, the building's placement alongside a grove of old-growth trees will provide shade in the summer while exterior green screens reduce solar heat gain.
To reduce moisture, tongue and groove structural wood decking – another subtle nod to nature – is used in key areas of the building.
"This will be the first time that Piedmont has integrated a health and wellness location within a residential community. We believe this innovative facility will not only be a gold standard fitness facility for people of all ages and abilities, but will also be the best way to deliver preventive medicine and healthcare solutions for a community focused on wellness and living better."
Michael Burnett, CEO
Piedmont Healthcare Fayette
Wellness
What do you get when you place every imaginable piece of state-of-the-art exercise equipment and hundreds of different wellness programs inside a stunning 55,000 square foot building? You get fit, that's what.
The center covers everything from CrossFit and cardio to weights and water therapy. And bikes. So many high-tech bikes. In fact, the immersive spin studio sports 32 of them in an digital, audio-visual experience to inspire riders to push harder.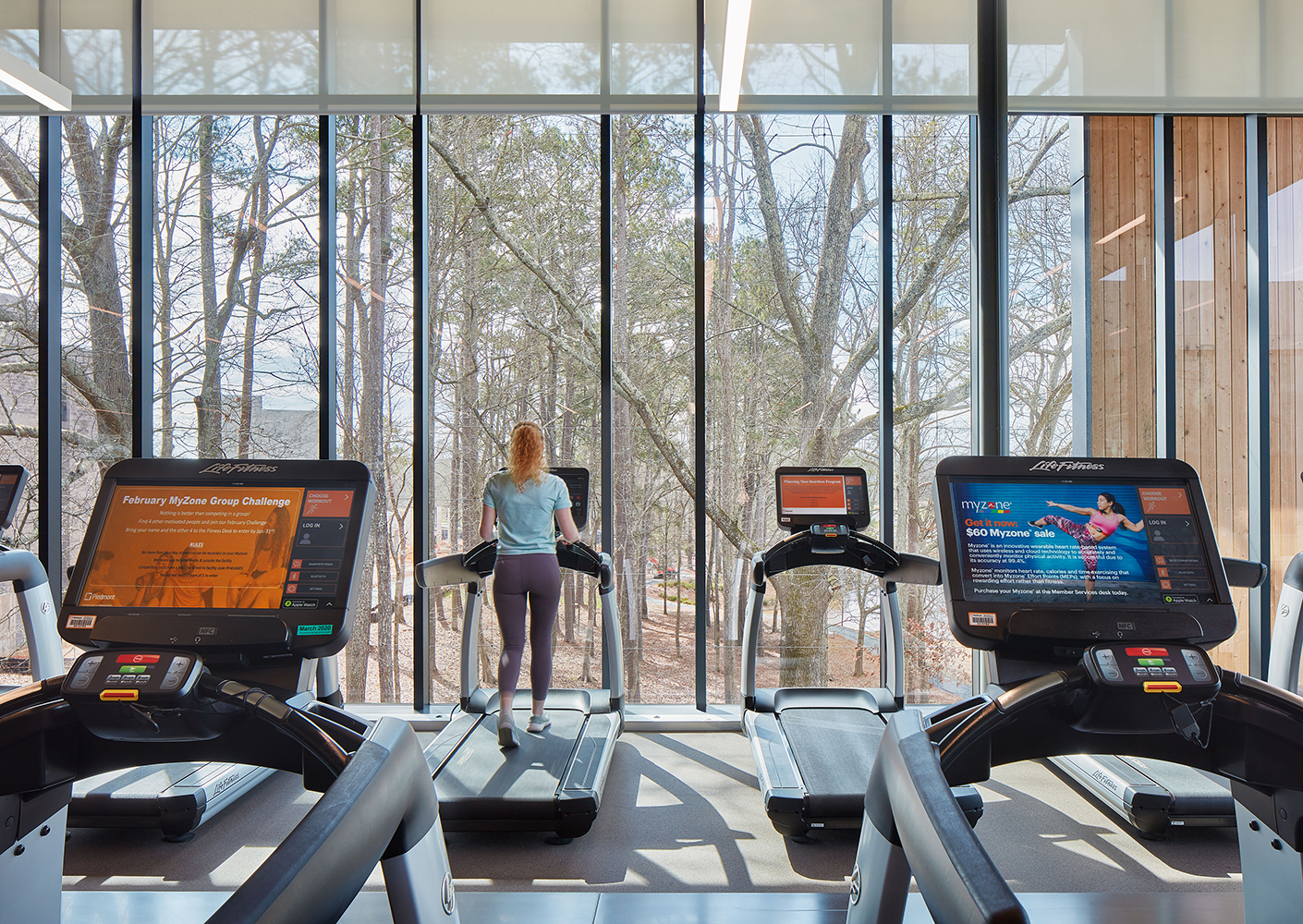 Biophilia
Situated adjacent to the distinguishing natural feature of Pinewood Forest known as The Grove, the active spaces are oriented to provide a connection to nature with maximum transparency. Structural wood decking is utilized in key areas to further that connection, while environmental graphics blend the mission of Piedmont Healthcare with natural visual forms.